Created by Sean Kelley-Pegg, June 11-30, 2013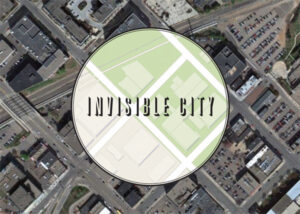 You receive an urgent message: "I have the documents for you. Meet me in the cafe. Make sure you're not being watched." Will you follow his instructions?
Invisible City was a free public art event using smartphones. Unlocking chapters of a spy story and uncovering hidden spaces in the city, you met virtual characters and followed their directions… or not. It was a self-guided experience lasting about one hour.
Featuring the voices of: Billy Mullaney, Vladimir Rovinsky, and Rebecca Yoho.
Graphic design: Scot Covey.
Special thanks to:
Janine's Cafe; Dunn Bros Washington Avenue; Melinda at Forecast Public Art; Charles Campbell; Blake Bolan; Sarah Kelley-Pegg; and all those people who tested the event and gave early feedback
Originally funded by Forecast Public Art with additional support from the Jerome Foundation.
---
Other Works