December 2019
O OUTRO (The Other) by Felipe Mafasoli & Juliana Neves
In a performative context we portray a love story. A filmic regard on relationship. The performance finds itself on the spot. An experiment with time.
Felipe Mafasoli studied Drama at Academia Contemporanea do Espectaculo in the beautiful city of Porto whereafter he worked as an actor between Portugal and Belgium in films commercials and theatre for 15 years. In 2008 he started a new adventure this time as a film director having first graduated as Master in Cinema at the Royal Academy of Brussels. He co-founded Are You In Town? Prod. in Flanders. His short film, Ana Luz, was selected at NYPF in New York and BRUSSELS Short Film Festival in 2014. He co-founded and worked as curator and business manager of the notorious Space Belgica project in the city of Brussels. He still has a deep commitment to theatre, working as dramaturg, actor, and videast in various productions. He wrote two short poetry books, one of which was published by Beefcake Publishing Gent 2017 in Belgium and the Netherlands. He moved to Minnesota following his wife's career and is currently busy writing directing and producing films as well as helping out with most Skewed Visions activities since August 2018.
Juliana Neves is a dancer, aerial acrobat and teacher. In 2016, she was the invited guest artist of the Panama Area Aerial dance festival. In 2014, She was the artistic coordinator/casting director and acrobatic choreographer for the opening and closing ceremonies of the FIFA World Cup Brazil. She has collaborated with Belgium director Alain Platel and his dance collective les ballets C de la B for the past 12 years: as Interpreter-Creator in C(h)oeurs (2012-2013), in Pitié (2008-2009) and in Wolf (2003-2005); as his assistant for VSPRS (2005-2007), as co-director in Gamma (2004); as teacher responsible for the intense workshops linked to the show Out of Context (2009- 2011). In 2013, Juliana directed her contemporary circus/dance creation Jump or Fall under the company she co-found with Felipe Mafasoli in Belgium: Are You In Town? Prod. In 2006 she represented Cirque du Soleil to launch their first Brazilian tour and in 2003, she represents them at the International Circus Festival in Recife, Brazil.
Juliana was the first artist from São Paulo to join Cirque du Soleil in 1998, she was in the original cast of the show Dralion where she was a soloist and one of the main characters. She is currently a teacher and part of the creative team at Circus Juventas in Saint Paul.
---
When you can hear, you can't see. When you can see, you can't hear. by Alys Ayumi Ogura.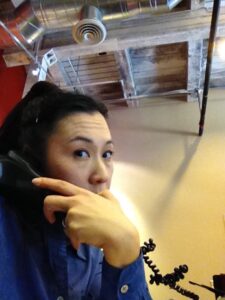 I've wanted to make a piece about my experience as an office receptionist for very long time. This work would include a mixture of emotions, including joy, annoyance, frustration, anger, then, even happiness. I hope the audience can connect with at least one of these emotions.
Alys Ayumi Ogura is a Twin Cities-based dancer and performing artist. She started her dance training as a child under the guidance of Ms. Mika Kurosawa, the late Godmother of Japanese contemporary dance, and her theater training was part of her BA in Theater Studies from Westmar University, IA. She is an alumna of the 2017/2018 Arts Organizing Institute at Pangea World Theater.
Ogura has been performing in the Twin Cities since 2010, and she has worked with Aniccha Arts, Company Blue (Italy), Emily Johnson/Catalyst Dance, Hauser Dance, Live Action Set, Melissa Birch, Emily Gastineau, Sandrine Harris (CT), Anna Marie Shogren, Vanessa Voskuil, and Laurie Van Wieren, to name a few.
Ogura currently works with the April Sellers Dance Collective, Kinetic Evolutions Dance Company, MotionArt and Painting the Room.
---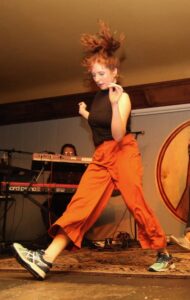 Dressed to Move by Maggie Zepp.
Dressed to Move explores an unwavering obsession with movement by recalling past choreography, telling stories, and living out fantasy narratives.
Maggie Zepp is a dancer, choreographer, and teaching artist living in Minneapolis. She is a founding member of the collaborative group DaNCEBUMS and performed extensively with the group from 2013-2019. With DaNCEBUMS, she performed at the Walker Art Center, Tek Box Theater, Bryant-Lake Bowl, and choreographed pieces commissioned by Red Eye Theater and Saint Paul Conservatory for Performing Artists. Outside of DaNCEBUMS, she has performed works choreographed by Mathew Janczewski, Morgan Thorson, Fire Drill, and Chris Schlichting. She has also performed solo pieces for Future Interstates and 9×22 at Bryant-Lake Bowl.
Her recent performances include Morgan Thorsons Still Life at Base in Seattle, and DaNCEBUMS final show Its All Real, Its All Fake, Its All DaNCEBUMS at the Tek Box Theater, which received support from Minnesota Regional Arts Council and the American Composers Forum. She works as a teaching artist for Young Dance and Stages Theatre Company, teaching Creative Movement, Ballet, and All Abilities classes in recreational settings.