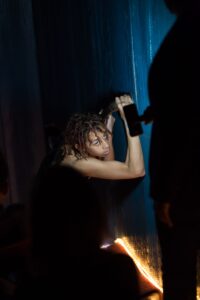 (Preview #2) 'No, forget it, I am sorry. There is no point in speculation.'
Created by Holo Lue Choy Performed by Shayna Allen and Holo Lue Choy "No, forget it, I am sorry. There is no
 point in speculation." was a series of pieces exploring jealousy, manipulation, and toxicity within relationships where boundaries are undefined. Inspiration is drawn from vari
ous forms of media which normalize both the causing and receiving of various forms of trauma, particularly domestic abuse. This was the second of three iterations, focusing on the intersections which abuse has with isolation and capitalism. ØØØra Created and performed by Erin Drummond & Holo Lue Choy pharoh/ferrow (sic). c. breakout. (SIC_undefined). alt phrases. c. fulcrum. free-reign pharoh or d. breakout. torso or f/e. 8a1b22c3d2e1f2g4h1i8l4m1n3o9p1r7s5t2u4v. Holo Lue Choy is a Minneapolis-based interdisciplinary performance artist and choreographer. She has danced with Voice of Culture and Ananya Dance Theatre, and serves as artistic director of WW/Harvest Performance Collective. As a performer, she has been in works by Rosy Simas, Pramila Vasudevan, Chris Schlichting, Carl Flink, Kenna Cottman, and Fire Drill, amongst other artists. Her work prioritizes the experiences of historically oppressed groups, especially transgender people and people of color, and how such identities affect the way one interacts with the world. WW is a collective consisting of Holo Lue Choy, Shayna Allen and Sophie Keller devised in early 2016 with an intention of blending together their artistic aesthetics and brining multiple perspectives based in sociopolitical identities into research processes, often resulting in multiple narratives intersecting on stage. Their work together draws from core beliefs of intersectionality and combating medi as simplification of identity politics through archetypes.
---
Noche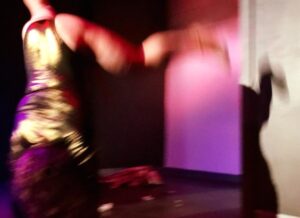 Bomba by Pedro Pablo Lander Noche Bomba was an exploration of forms and of gender. Movement; expression; drag; social dance. Gender as fiction, socially constructed; gender as reality, the actual implications. Interweaving forms to construct specific imagery. Pedro Pablo Lander (Ze, hir : he, him) is a Minneapolis based, Venezuelan artist. Ze currently works as a resident artist for the Pillsbury House Theatre and as a teaching artist with Upstream Arts. Since moving to the Twin Cities, Pedro has performed hir work at Walker Art Center, Red Eye Theater, Open Eye Figure Theatre.
---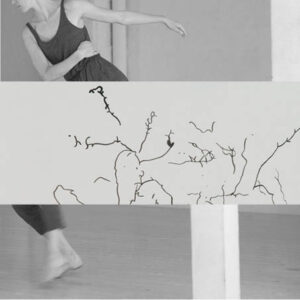 Movpo by Kaya Lovestrand. A new movement study occupied by concrete poetry, Japanese literary forms, and the best kinds of nonsense. Kaya Lovestrand is an artist currently living and working in Minneapolis, MN. She has performed with choreographers such as Kota Yamazaki, Dana Reitz, Gwen Welliver, Elena Demyanenko and Daniel Roberts in addition to creating her own work and dancing through her collaborative project Three Planes Collective. Her creative work has been influenced by internships with independent choreographers, dance companies, and other arts-based organizations around the United States and abroad. Her eagerness to always be learning new ways of making has lead her through many mediums other than dance, including printmaking, drawing, ceramics, woodworking, and bookmaking.